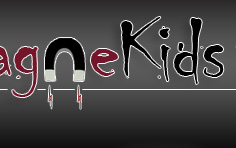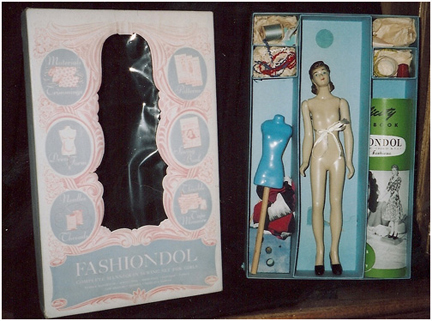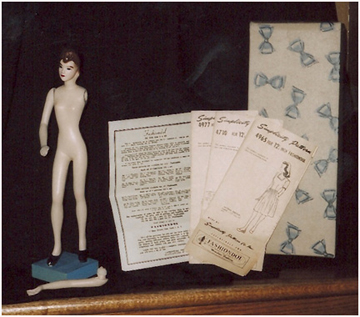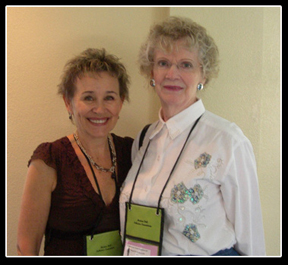 Mannequin Dolls
When I visited MDCC in Sept , San Antonio in 2007,
I met this wonderful lady, Treva Smith. I told her about
my new line for 2008 and she started to tell me about
the dolls she has and how they are more or less the same
as my MagneKids, mine just in a more modernize way.

During the depression years sewing was very important.
The mannequin dolls and doll sewing kits were used
to promote sewing during the World Wars. Children
were taught to sew at a very young age, and to be
thrifty. The dolls made learning fun. At the same time,
toy sewing machines were popular.
Some of the dolls were made of a hard rubber
(except during war years), however most were
made of composition. The "Marianne" doll by
Laxture Products, Inc. was an early form of plastic
used for this type of doll.

The arms were removable with pegs at the
shoulders. Many also had pegs on the bottoms of
their feet to insert into a small wooden base that
was included.

The dolls were nude and came with patterns to
make clothes. Several pattern companies offered
dolls and patterns to teach sewing:
Simplicity, McCalls, Butterick and Singer.

The Butterick Company made a small mannequin
doll in the 1930's. Her patterns included a nurse's
uniform. Butterick made the Junior Miss Fashion
Designing Set in 1949. It was a composition doll.
Many times the patterns for the dolls
were based on the current adult patterns
available. Because the doll's arms were
removable, the blouse or dress bodice
patterns were very fitted, often with
darts and seams. The doll could be
dressed, and then the arms were re-
inserted.

The Singer Company made a rubber doll
with Butterick Patterns and a toy Singer
sewing machine. The McCall Company
made a doll in 1942, named
Peggy McCall. She also had removable
arms and various patterns.
Many of these dolls were made during
1939-1948, and into the 1950's. Later other
modern dolls were used to teach sewing, but did
not have removable arms. They were offered in
sewing kits as "dress-me" type dolls, with fabric
and sometimes a toy sewing machine.

The early Simplicity, McCalls, and other sewing
mannequin dolls are very collectible today and
many times bring a high price. The original
patterns can cost as much as the dolls and are
most sought after by collectors. There are
two very good reference books available on
these dolls:

Miniature Mannequins Identification and Price Guide by Doris Mixon

Encyclopedia of Children's Sewing Collectibles by Darlene J. Gengelbach